PERMANENT EYELINER
Waking up with defined perfectly lined eyes that don't wash off when you shower! Imagine never applying your eyeliner again, wouldn't that be AMAZING! No more black smudges running down your face, or black marks on your pillow!
Permanent eyeliner can do all this and more! Black is the most popular colour and at the Studio we have a range of black's based on what you are looking for. If you want a different colour, we also have other options. Please reach out via email if you want something other than black, brown or blue.
The time and the price of the appointment will vary based on what exactly you want done, top liner, wings, bottom liner or both. Liner takes two appointments to complete and it is advised to review the before you visit page and FAQ's before you book your appointment.
If you want to add eyeliner onto your brow or lip appointment let me know because you will get a combo discount.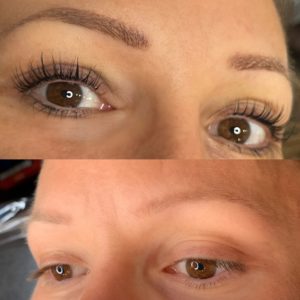 This lovely guest of Studio Ki has been coming for over 1 year now. This photo displays her before and after photo after 1 year.
Her brows are 1 year old, her eyeliner is one month old and she has been using EyEnvy for 1 year as well. She came in for a lash lift and tint and we were able to capture this amazing transformation of her!